Copper plating and silver plating filler
At Yasuda Chemicals, we contribute to our own processing technologies in gold plating, such as silver and copper.
Copper plating and silver plating filler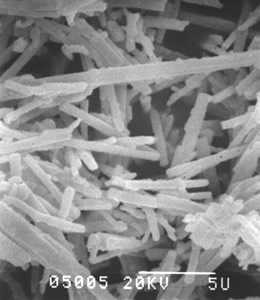 The silver plating technology (conductive filler) we handle is a highly functional, highly conductive material that can accommodate miniaturization and weight reduction in the electronics field.
Characteristics
[High conductivity]

Compared with the conventional Ag flour and Ag flakes, a lower amount (1/2) of this product provides equivalent or better conductivity.

[Excellent ink-paste properties]

Provides a uniform and stable conductive film and paste with excellent dispersibility and difficulty sedimenting.

[Excellent processivity]

Material with excellent weather and chemical resistance, low hardness, and high dispersibility.

[Excellent fine pattern characteristics]

Low sag allows for finer pitch.

[Low linear inflation coefficient]

Has a linear expansion coefficient close to that of ceramics, and is excellent in crack prevention and adhesion.
Applications: Conductive paste, conductive glue, electromagnetic wave shielding paint
Application of silver plating conductive filler
Conductive paste

Stable conductivity is volatilized with less added amount than Ag flour ⇒

Low cost

Small specific gravity makes sedimentation superior ⇒

Difficult to hard caking

Low sagging ⇒

Good fine pattern characteristics

Core material is ceramic ⇒

Linear expansion coefficient is small
Conductive adhesive (Pb hand substitute)

Reinforcement Effect of Fiber Shape ⇒

Enhancement of Bond Strength

Random variance ⇒

Resistance equivalent to X, Y, and Z axes
Flow from request to product delivery
Here, we present the flow from the request to delivery of the product for plating.
Please

Inquire via telephone or website first.

Meeting

Conduct discussions of product specks, etc. regarding copper and silver plating for substances.

Prototype

Plat copper or silver on designated substances and make prototypes.

Sample evaluation

The prototype is sent to the customer, and the prototype is used to manufacture and evaluate the product.

Mass production trial

We will conduct mass production trial in order to confirm the variation, etc., in the specifications between product lots.

Product delivery

Production is carried out under a strict control system and delivered.